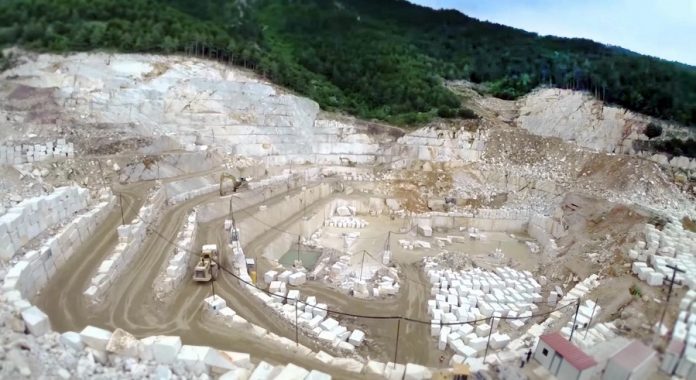 The economic impact of the coronavirus pandemic in the marble mining and processing industry, but also the position of Greek marble in the world market, is reflected in a study completed by the Management Consulting, Private Sector of ICAP SA, in collaboration with DK Marketing.
According to the basic scenario of the study, the projected total decrease in sales for companies in the marble mining and processing sector in 2020 (compared to 2019) will amount to -35% and sales in the sector will amount to 366.7 million euros. The optimistic scenario predicts a smaller decrease (-30%) with sales amounting to 394.9 million euros while in the pessimistic scenario the decrease will be higher (-40%) and sales will amount to 338.4 million euros. As can be seen, the projected sales for 2020 in the baseline scenario are lower than the realized sales in 2014.
Due to the projected decrease in sales of the marble mining-processing sector, in the whole economy through the political effects sales will be reduced in all sectors-suppliers. The projected total decrease in sales in all supplier sectors as well as the reduction in the remuneration of workers in the marble sector will amount to -431.9 million euros according to the baseline scenario of the study, while, according to the optimistic scenario, the decrease in turnover will amount to -307.2 million euros and based on the pessimistic scenario the reduction will reach -493.6 million euros.
Regarding the impact on employment, according to the study, the final projected reduction in employment in all supplier sectors, including the marble sector, will range between -896 employees (optimistic scenario) and -2.689 (pessimistic scenario) with the basic scenario decrease by -1,793 persons.
Regarding Greece, the marble industry is one of the main sectors of the Greek economy, given its great degree of extroversion, but also one of the most important exporters worldwide. The total contribution of the market to the Greek GDP is estimated at 1.27 billion euros, with the total sales of the sector amounting to approximately 520 billion euros in 2019. 76% of total sales come from exports, resulting in last to amount to 395.4 million euros, having recorded a contraction in 2019 by 9.38%. Most of the exports concern raw marble, whose exports reach 246.36 billion euros, covering 62.3% of the total. On the other hand, exports of finished marble products are valued at 149.03 million euros.
Source: amna.gr