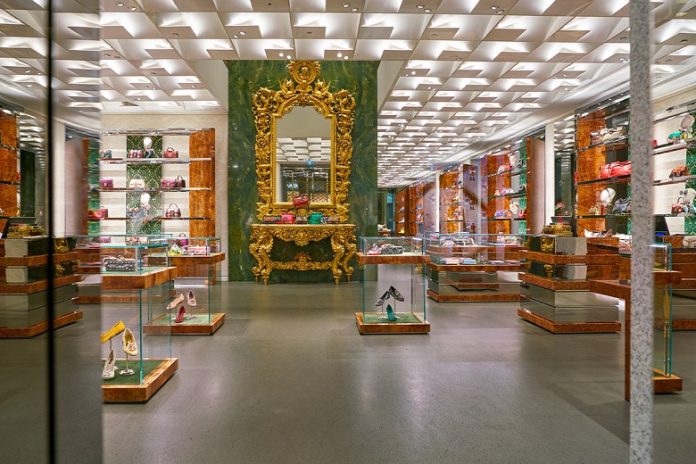 All the grandeur, elegance and baroque soul of Dolce&Gabbana, the iconic Italian high fashion brand founded in 1985 by Domenico Dolce and Stefano Gabbana, finds full expression with the prestigious boutique in Via Monte Napoleone 4, Milan: the designers' stylistic code can be found not only in the clothes and accessories on display but also in the design and furniture pieces that make this space an ode to splendor.
The 1,500 sqm and four floors boutique, created by French designer Gwenael Nicolas, represents the cornerstone of a new concept that is gaining more and more appreciation among high fashion retailers: a "tailored" store concept; highly customized according to the brand, city, and style of reference. This D&G boutique sells clothes and accessories (including jewelry) for men, women, children, therefore it represents the luxury soul of the location and the designers themselves, able to impress and to excite.
Nicolas, a French designer based in Tokyo and founder of the Curiosity Architectural Studio, said that the designers gave him carte blanche for this project, encouraging him to push his art to the extreme. The result was a meeting between the original space, dating back to the 1800s, and the contemporary: marble and brocade, clean and opulent lines, in a triumph additionally highlighted by golden details and elements.
To amaze and expand even more the D&G world, Nicolas decided to create a dialogue between the Baroque energy and the modern clarity through refined solutions such as green marble, lava stone floors, elm briar, velvet brocade (similar to that used by Giuseppe Verdi for its stage designs) and green onyx elements. To complete the space: the lighting system and the vintage pieces by Gio Ponti and Ico Parisi.
Green is an unusual choice for the designers but, as stated by Nicolas, it is a novelty aimed at emphasizing the unique character of the store and its emotional impact: green is the color that represents nature, rebirth and origins, all elements that can be found in the new brand's guidelines.
Therefore, the Brazilian green marble dominates the impressive staircase that leads to the first floor, while the green onyx enriches the floor dedicated to jewelry and evening attire, both on floors and walls. The overall visual impact is extremely sumptuous.
The green marble is a remarkably refined material for its high decorative beauty and the Brazilian one, in particular, thanks to the Nuvolato structure, is particularly suited for interior spaces (floors, walls, and stairs coating), such as those that can be found in a luxury boutique. On the other hand, the green onyx, which comes mainly from Pakistan, is characterized by colorful veins ranging from white to yellow, going through ochre and darker shades. Since it's a natural material, its veins are always different, making it unique, refined, and timeless.
Source: www.marmomac.com