Nikos Gonianakis spoke about his career in the field of marble, the importance of the material in Greek industry and tourism, and the future in an interview with LIFO.
Mr Gonianakis started his professional career as a football player, but he was won over by the marble industry and the family business Stonetech, founded by his father Manolis Gonianakis. He said, "I remember when I was travelling as a child with my father, I used to see the big machines tearing up the marble in the factories. Then I felt a sense of awe for the marble industry."
His love for marble can be seen through the aspects of the company, which has grown from a small family business to a dominant player in the Greek and international industry. Speaking about the company's history, he stressed that there are no specific ingredients that lead with certainty to success. "At Stonetech we invested in the deep expertise that has distinguished us since 1975, which we combined with our need for continuous development. This led to the decision to create a younger team, with a different way of thinking and a new vision for the organisation and production of the marble business. Strategically and with careful steps, we are trying to change the traditional, less daring way in which our Greek counterparts have been operating so far and make the transition to the new era".
From 1998, when he took over the reins of the company, until 2006, the goal was to change the way the company operated with a new, innovative production line. The economic crisis of 2008-2009 created the need for even more change. In 2012 he expanded to Athens. These moves led to the extroversion of the company, the development of exports and many exclusives in Greek marble quarries.
The innovations brought to the business, however, were not only technological. He created a team composed of young, ageing professionals and experienced craftsmen. "Our team is made up of knowledgeable people. When I say 'knowledge of the subject matter' I mean experience of more than twenty years. That is a qualification to build a dynamic team, once you have secured the expertise."
In addition, Stonetech has also expanded into the export of Greek marbles. As Mr Gonianakis explains, "our company has a peculiarity that few have in the domestic market: it imports marble for projects in Greece and exports Greek marble to the same network or other customers". Apart from marble, however, Stonetech also has a great collection of artificial surfaces and luxury materials that are a solution for every need, while it has been representing for many years in the Greek market some of the most important brands such as Neolith (Spain) and Quarella (Italy).
Speaking about the international marble industry, he referred to the world's leading areas, such as Italy, and stressed that while it does not have first place in quantity, it is top in values and processing, because it has the know-how and the appropriate mechanical equipment. At the same time, he stressed Greece's role in the international industry. "But the largest exporter of white marble in the world is Greece, which ranks third or fourth in the world in terms of exports of the industry in terms of value and quantity." However, he also stressed the importance of developing a national strategy and paying attention to the quality of the raw material as well. "We lack mining legislation and a strategy on it that provides for specific quantities, not that the value of the material falls because there is a high supply. There is also a lack of culture from those professionals who deal with natural rocks. They need to change their mentality, to treat the consumer with more honesty."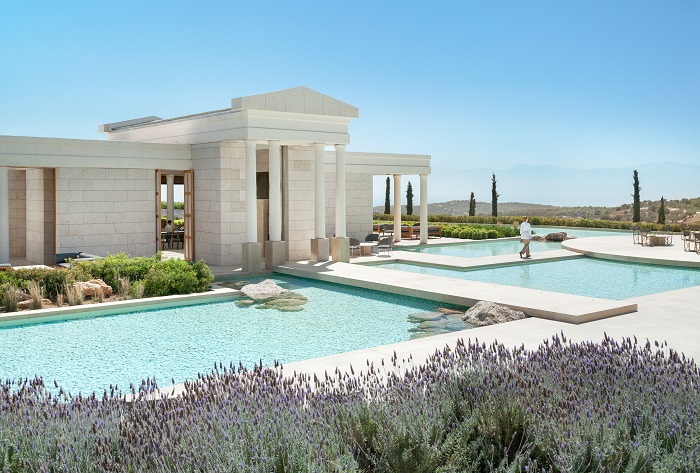 Marble in Greek tourism
Mr Gonianakis also spoke about Stonetech's partnerships with major hotels. "Through collaborations with architects, we have succeeded now to "spread" Stonetech marbles in many countries. In the past, but also today, our partnerships have included the most important construction projects in the hospitality sector in Greece. For example, Blue Palace and Daios Cove in Crete, Stella Island, Euphoria Retreat and Robinson, Amanzoe, a large part of Asteras (Four Seasons) and now One&Only in Kea. The Stonetech stamp is on so many fine hotels and projects of particular interest, such as the Ritz Carlton in Maui & Kalea Bay in Florida. This is a special case, as we supplied marble for the pools and surrounding areas. This is a luxury trend as lining a pool with marble gives a more natural feel and aesthetic excellence."
Continuing, he referred to Greek marble as a "brand" for the country. "It does not just give an opportunity to the hotelier to make an investment with aesthetic superiority. Marble is a local material that reinforces the Greek identity and is creatively linked to our culture and natural wealth. Clearly, then, we are talking about a premium material that enhances every project, adds elegance and timelessness, while offering a uniqueness to the visitor's experience. It is one of those materials that is inherently unique. Every marble slab, whether it's in a bathroom or an outdoor space, has its own character."
Speaking about trends in hospitality and the use of marble, he noted that they have changed dramatically from thirty years ago. Marbles are being laid as in the past, but now technology, specifically CNC machines, is enabling even more difficult constructions to be made, in solid pieces, with embossed surfaces, etc. "Technology is constantly changing, making the work of craftsmen easier. Not that they didn't know their job before, just that the degree of difficulty was greater back then. By combining technology and the in-house atelier, where we still have treatments done by hand, we have achieved enormous creative freedom. It is precisely this freedom that we apply to forms and cuts for demanding, tailor-made constructions."
Finally, referring to the future of Stonetech and the marble industry, he said, "I envision a future in a more automated production environment, which will require minimal staff for tasks that can be performed without human intervention. But this does not mean sidelining workers. We want our people to be involved in the more specialized processing, the creativity and personal care part of each project," and he also emphasized the role of people in the success of the business. "Without people, you don't do anything. When you have a good team, you win. So, the people of the company are the alpha and omega for me. And we are interested in them being happy and being able to count their lives through the sustainability of the company."