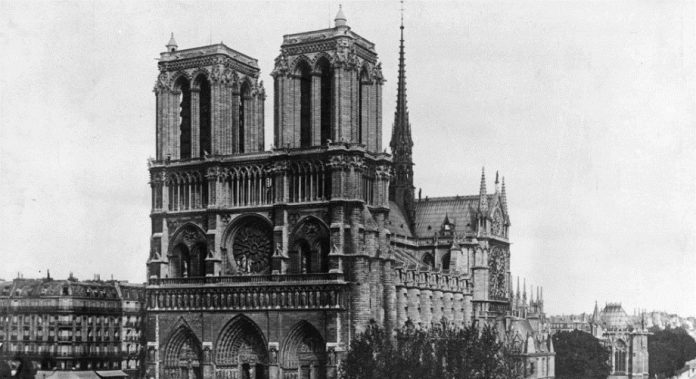 Paris' Notre Dame Cathedral was heavily damaged by flames last Monday, much of one of the most famed examples of Gothic architecture – a building that has seen centuries of history and is a symbol of France. Notre Dame is irreplaceable, with a history as grand as the spire that collapsed in the blaze. Located on the Ile de la Cite in the center of Paris and built on the ruins of two earlier churches, the cathedral draws about 13 million tourists a year, who marvel at its flying buttresses, its luminous stained glass, its grotesque but beloved gargoyles.
Construction of Notre Dame began in 1163, when Pope Alexander III laid the foundation stone. It wasn't completed until 1334 and the amount of time and money spent on it reflected the city's growing prestige. Over time, it has seen coronations, vandalisms and other historical events- it was even used as a warehouse during French Revolution. It served as the backdrop for Victor Hugo's 1831 "Notre Dame de Paris" (better known in English as "The Hunchback of Notre Dame." The book's place in French literature meant that calls for restoration were finally heeded in the middle of the 19th century – much of the current structure dates not to the 12th century, but to the 19th.
But while the building itself is considered by many to be a work of art, it's not just the external stone structure of the Notre Dame Cathedral in Paris that is irreplaceable. It's also everything inside it, from scores of religious sculptures to ancient stained-glass rose windows, to the chandeliers and organs and church bells, to the church vestments and the holy relics. Some of it was taken out recently for restoration. Some was not. But good news emerged from the fire: Important relics were saved.
The three largest and oldest stained-glass rose windows survived. The huge organ, dating from the 1730s and boasting an estimated 8,000 pipes, also is intact, although it could be damaged by heat or water. At the Mausoleum of Claude-Henry d'Harcourt, the lieutenant-general of the king's armies who died at age 65 is captured eternally in a white marble sculpture from 1776. In the sanctuary, a white marble statue of Madonna and Child – one of 37 representations of the Virgin Mary in the Cathedral – that dates back to the 14th century (though it was only moved to the Cathedral in 1818). Inside the sanctuary as well, the 1725 Pietà marble statue, "Descent from the Cross," by French sculptor Nicolas Coustou, stood intact.
Sources: associated press, washington post, usa today