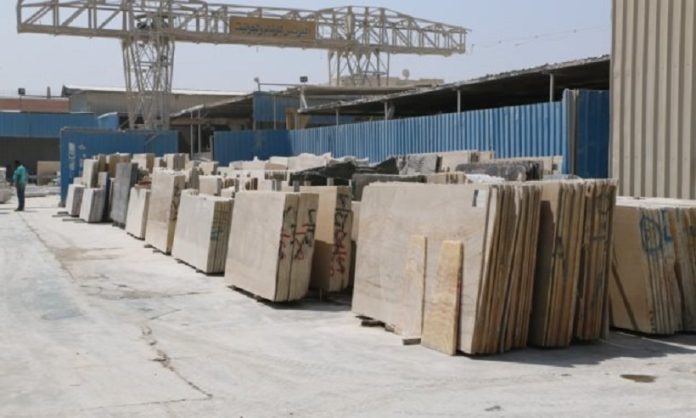 South of Cairo, there is Shaq El-Tho'ban, an area considered an investment for Egypt. President Abdel-Fattah El-Sisi directed the area's comprehensive development and transformation into an integrated space named "City of Marble and Granite".
The area is one of the most significant marble exporting sites. It is located on an area of ​an estimated ​​6.5 million square meters and contains 2,525 factories and workshops for manufacturing and exporting marble that comes to it from the quarries of Ras Ghareb, Ain Sukhna, Minya and Jabal El Galala in Suez, the Red Sea and Aswan.
Within its limits is a school and institute where trained technical workers can graduate. There is also a dry port and a service area, which includes branches of various banks and shipping agencies. Additionally, there is a logistics area with shipping and unloading offices, an exhibition area, an ambulance and a fire station, a police station, and factories for recycling industrial waste.
Shaq El-Tho'ban is currently developing within the state's plan to transform it into a city of marble and granite. In its limits, the services provided to investors are promoted, problems are solved, utilities are completed, and the conditions of factory owners are legalized, as the entire region is considered state property.
The area includes the construction of newly paved roads that can bear the heavy weight of transport vehicles loaded with marble blocks, utilities, electricity, and water networks.
The region is environmentally friendly and deals with solid waste safely and scientifically. It pays the necessary attention to raising the efficiency of the infrastructure in the region to develop the various services in it, including electricity, water, sewage, and electric nutrition, and to develop the network of the surrounding main axes and its secondary roads.
The "Sahala" marble manufacturing waste recycling plant is also operated. It was also agreed with several ceramic factories to recycle marble manufacturing waste and use it to produce interlock tiles, which are reused in paving roads.
The main objective of developing the region is to contribute to increasing production and investments, maximizing state resources, creating additional job opportunities, overcoming all obstacles investors in the area are facing, achieving the necessary stability, and improving infrastructure and facilities.
Source: www.egypttoday.com