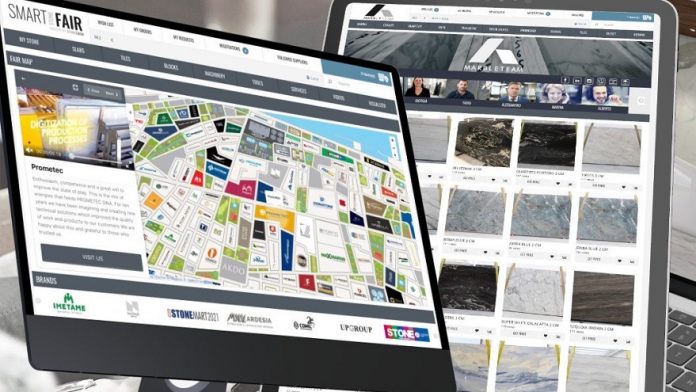 The second edition of SmartFair, the world-leading digital event in the stone industry hosted by StoneCash, has come to an end with great results, and now the team is ready to move on with new cutting-edge offers.
In a historic period when the entire stone sector seems to be suffering, SmartFair is able to offer an alternative opportunity to keep business running effectively, leading more than 30.000 qualified operators from 146 countries, thousands of exhibitors and numerous products and materials uploaded for a total value of 130 million.
However, after SmartFair's first two editions, the stone operators' necessity of maintaining an online presence and keep doing business in the digital sphere was clear for the StoneCash team. The solution to this challenge was a complete restyling of the company brand and the introduction of the LIVE PAGE, a private and branded digital showroom that allows companies to connect with their clients, trade products, and participate in virtual fairs all year round, without being tied to one specific event. This innovation has already been appreciated by many businesses such as Prometec, one of the most innovative machinery company's in the world. Their Sales Manager, engineer Mauro Dazzi, confirms that "in a time of immobility, the LIVE PAGE allows us to maintain both our sales network and our prospects in a very interactive and proactive way. But above all, this is a tool that allows you to become a leader in the online market".
Together with the introduction of the LIVE PAGE, the StoneCash team has launched another integrated service named VISUALIZER, a next-generation commercial tool that can be directly linked to the company's digital store, allowing users to choose amongst their materials and see them in various realistic room spaces. "The Visualizer is a high-quality and easy-to-use tool that facilitates our sales activities as our customers can concretely figure out how our beautiful materials will look in their spaces", confirms Lorenzo Gatti, Sales Manager at renowned GEMEG.
"All these new services follow the same mission which is the digitalisation of the entire stone industry", explains Margherita, Marketing Manager of StoneCash. She then underlines how "we don't want to substitute existing stages of the supply chain, but rather help all the operators of the sector to do business easily and more efficiently".
About StoneCash:  StoneCash is a UK-based company whose mission is to digitalise the entire stone supply chain. With the help of an innovative cloud-based e-procurement system, members have access to a global B2B marketplace where they can negotiate products and services directly with suppliers. Companies can create their private Live Page, a virtual branded showroom where they can maintain relationships with clients and suppliers, find new prospects, and collect customer data. Additionally, StoneCash hosts various Stone SmartFair events, which offer unique opportunities to meet leading stone industry operators.
Learn more at www.stonecash.co