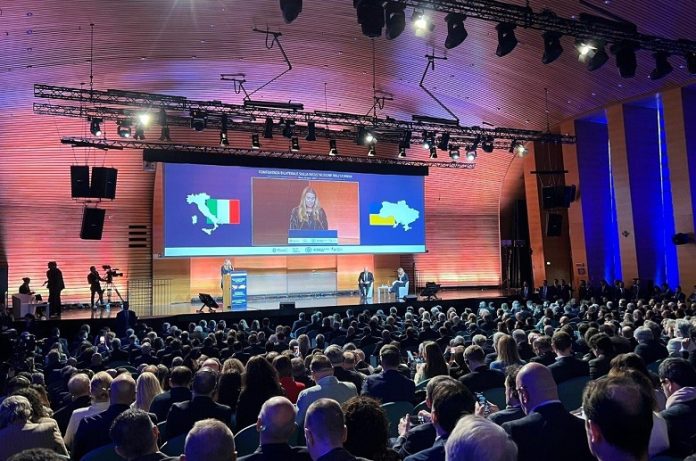 By express invitation from the Ministry of Foreign Affairs and International Cooperation (MAECI), Confindustria Marmomacchine participated in the "Bilateral Conference for the Reconstruction of Ukraine" held on April 26 in Rome.
Welcoming the Ukrainian delegation were Prime Minister Giorgia Meloni, her Deputies Antonio Tajani and Matteo Salvini and Ministers Giancarlo Giorgetti and Adolfo Urso. Representing Kyiv were Prime Minister Denys Shmyhal and Foreign Minister Dmytro Kuleba, among others.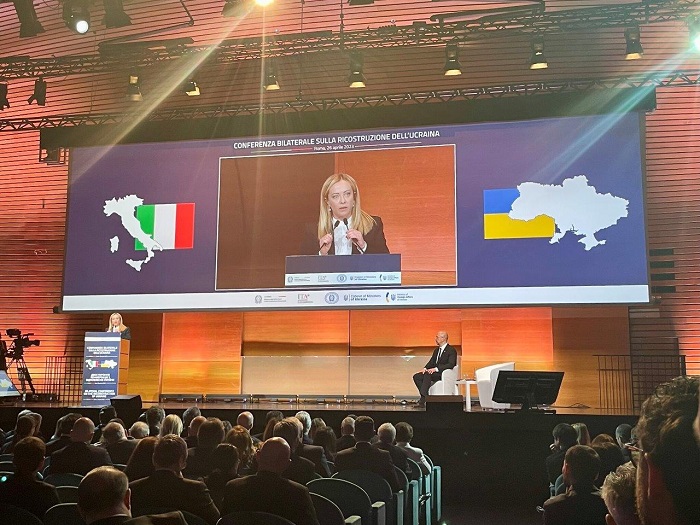 More than 600 delegates were present at the EUR Palazzo dei Congressi for what the Italian government considers the fundamental involvement of private individuals for reconstruction projects estimated to cost more than 400 billion euros. There were many meetings at the conference which, after a closed-door session consisting of 7 round tables on as many sectors considered priorities, proceeded to a plenary session.
"From infrastructure to energy, passing through agroindustry, mechanics, healthcare, digital and the steel industry, Italian companies, from the large to the SME, are in the front lines. Italian industry intends to work with decision and enthusiasm to provide Ukraine with all its investment and production capacity and to play a leading role in economic recovery. And Confindustria, with all its different facets, will be sure to provide suitable support". So said Barbara Beltrame, Confindustria Vice President for Internationalization, speaking at the conference's panels. In the context of work for the Ukraine reconstruction process, CONFINDUSTRIA has activated a "REBUILD UKRAINE" database for the purpose of collecting the profiles of companies interested in this important goal.
In the pre-war years Italy was Ukraine's third trading partner on the EU level, with trade worth more than 5 billion euros in 2021, up 50% from 2020. In this context it should be emphasized that techno-stone exports from Italy to Ukraine never ceased. In detail, in 2022, according to data processed by the Confindustria Marmomacchine Studies Center, the worth of machines and installations Made in Italy sent to Ukraine was 3,579,122 euros, practically the same as in 2021.