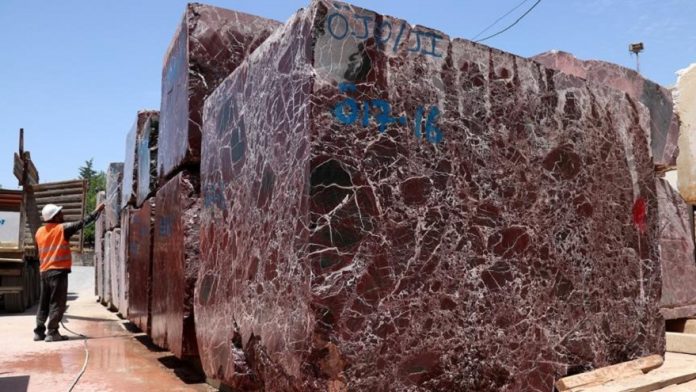 Valuable red-colored marble used at famous sites around globe such as White House and Kaaba
The dark-red marble known as cherry marble mined in Turkey's eastern province of Elazig is sold all around the world.
Elazig, which has 7 percent of all of Turkey's marble reserves, last year exported marble to dozens of overseas countries and earned $70 million.
Cherry marble is getting attention globally, and it makes up 35 percent of the city's marble reserves. It is exported especially to Italy, South Africa, Singapore, and the U.S.
Oguzhan Arslan, the deputy CEO of Alacakaya, Elazig's biggest cherry marble company, said: "Cherry marble was used in several important places such as the Kaaba [in Saudi Arabia] and White House as a valuable natural stone with its texture."
With government help, the company raised its production and exports, he said.
"Last year, we exported 25,000 tons of raw material and 200,000 square meters of processed marble," he added. "Cherry marble was sold in 800 markets in the U.S."
Turkey has several types of marble, such as white marble from the Aegean province of Mugla which was exported to 60 countries in 2017, with $300 million turnover.
Last year exports of natural Turkish stone — including processed and uncut marble, granite, travertine, and slate — totaled 7.94 million tons or $2.05 billion, according to the Istanbul Mineral Exporters' Association. Turkey is also the world's top marble exporter, followed by Italy and Greece.
By Ismail Sen
Source: www.aa.com.tr