The mixed-use development boom of the last decade is still going strong, with new "live, work, play" destinations breaking ground across the country nearly every month. While many of them are located in major cities, strong demand for projects of this type, as well as the migration shifts influenced by the COVID-19 pandemic, have contributed to their spread into the suburbs.
Here are some of the largest projects underway or nearly underway in the U.S. With each one, developers are investing billions of dollars to transform neighborhoods and bring in much-needed housing.
Lincoln Yards
Location: Chicago
Developer: Sterling Bay
Cost: $6 billion
Groundbreaking: Fall 2021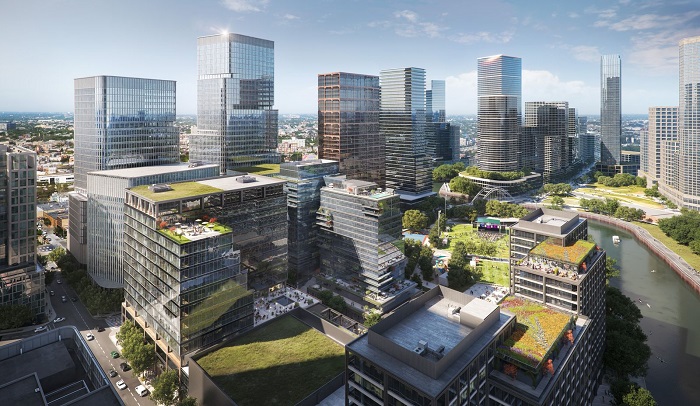 Work is underway on the 53-acre Lincoln Yards mixed-use project by Chicago developer Sterling Bay, located on the North Branch of the Chicago River.
The development's first building, a 320,000-square-foot biotech lab facility at 1229 W Concord Place designed by San Francisco-based architecture firm Gensler, has topped off and is expected to be completed next year, according to the developer. Sterling Bay is also in the process of building the project's roadways, a 1-mile riverwalk and natural river wall.
The Steelyard, the residential and commercial portion of the project, also designed by Gensler, is slated to break ground later in 2022, according to the developer. At full buildout, Lincoln Yards will comprise 6,000 residential units, 20% of which are designated as affordable.
The initial Lincoln Yards plan included a 18,000-seat soccer stadium and Live Nation entertainment district, which were rejected by Chicago Alderman Brian Hopkins and removed from the plan in 2019. In their place, 40% of the development site will be set aside as park space, including athletic fields, and small entertainment venues will be located throughout.
Sterling Bay is also developing two additional residential properties adjacent to Lincoln Yards – 2100 N Southport, a mass timber building set to break ground early in 2023, and 2301 N Kingsbury, currently in the planning stages.
The Central
Location: Dallas
Developer: StreetLights Residential, De La Vega Development
Cost: $2.5 billion
Groundbreaking: October 2022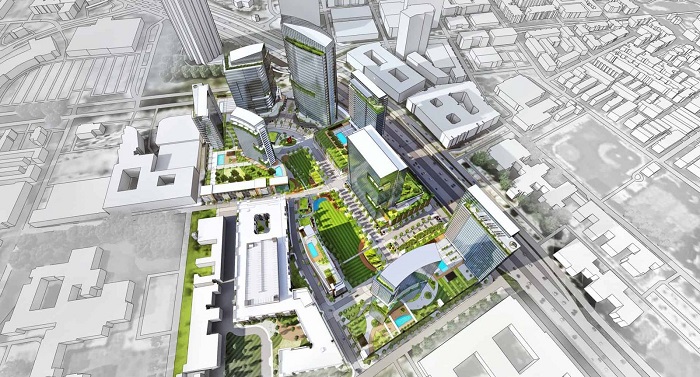 In 2020, the future site of The Central by StreetLights Residential and De La Vega Development made news for the challenges involved in demolishing the site's existing structure, the former Affiliated Computer Services building. Dubbed "The Leaning Tower of Dallas" by the press, an incomplete demolition left the building's core standing in a lopsided, derelict state for 15 days.
Now, with the leaning tower as a distant memory, work has begun on The Central's first phase. StreetLights Residential recently broke ground on a 350-unit, high-rise residential tower, expected to be complete in 2024. Another 430-unit structure, Jefferson Central, is now leasing, according to WFAA in Dallas.
The project is located in the city center between Uptown and East Dallas, and is listed on its official website as "a progressive mixed-use community focused on connectivity and wellness." Once complete, The Central will contain 2,000 multifamily units, 110,000 square feet of retail space, 2.5 million square feet of office space and a 4-acre central park across 27 acres and 4 million square feet of developed space total.
Related Santa Clara
Location: Santa Clara, California
Developer: Related
Cost: $8 billion*
Groundbreaking: Late 2022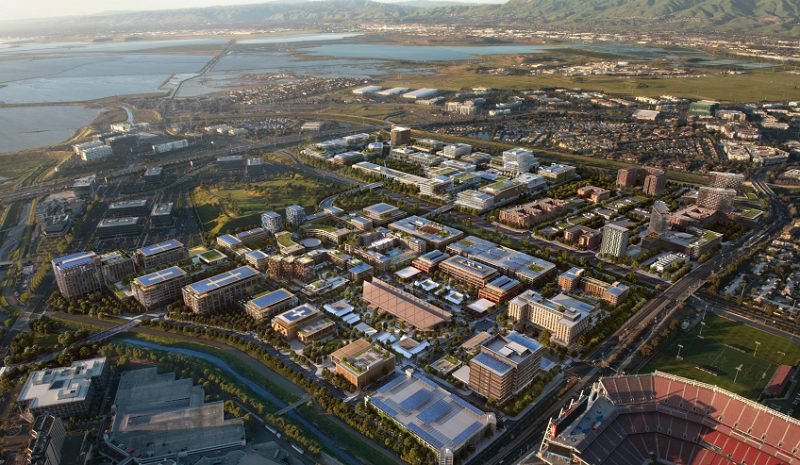 After a series of development delays related to the COVID-19 pandemic, Related Santa Clara, a collaboration between New York City-based developer The Related Cos. and the city of Santa Clara, will begin vertical construction in late 2022.
The first phase, known as the "Tasman Block," will consist of a 430,000-square-foot office complex, 50,000 square feet of retail, a 480-room business hotel, 200 apartments and a 1,900-space underground parking garage, according to a public presentation on the project. Foster+Partners is the lead design architect for the project's first phases, while Gensler will serve as the executive architect.
Once complete, Related Santa Clara will comprise 9.2 million square feet of developed space across 240 acres adjacent to Levi's Stadium and the Santa Clara Convention Center. The development breakdown includes:
1,680 residential units (170 designated as affordable).
5.7 million square feet of office space.
700 hotel rooms.
A 35-acre park.
25 acres of open space.
800,000 square feet of retail, restaurant, and entertainment space, including a global food market.
An adjacent development, Tasman East, will add an additional 4,500 residential units across 40 acres — 1,600 developed by Related and 2,900 by other developers. Related recently announced $690 million in construction financing for Tasman East.
Buzzard Point
Location: Washington, D.C.
Developer: Akridge and National Real Estate Development
Cost: Withheld
Groundbreaking: May 2022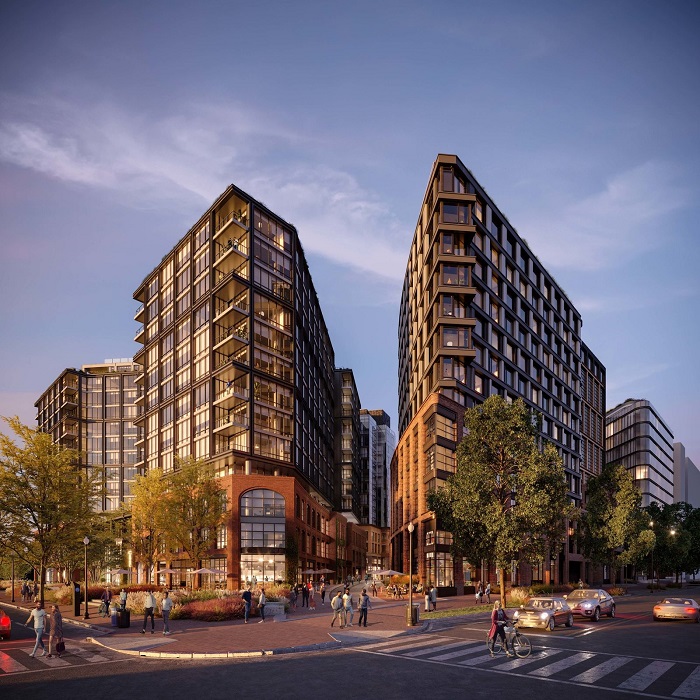 Construction has begun on the first phase of Buzzard Point — a set of three residential mixed-use towers known collectively as The Stacks. The site is located on Washington, D.C.'s Capitol Riverfront, south of another major mixed-use development, The Wharf.
Developed by Washington, D.C.-based Akridge and Philadelphia-based National Real Estate Development and set to deliver in 2025, The Stacks will offer 1,100 apartment units and 35,000 square feet of retail space. Approximately 10% of the units will be set aside as affordable housing.
The Stacks was designed by a large group of architects, including Gensler and Morris Adjmi Architects, inspired by the look of historic D.C. neighborhoods and walkable communities around the world. The buildings will be connected by a pedestrian-only road that runs to the waterfront through retail, public plazas and community spaces.
"We purposefully selected different architects to provide unique perspectives for each element and they have carefully designed the buildings to feel like a neighborhood built over time. The project has a unique design that focuses on bringing residents and visitors together in public spaces," said Matt Klein, president of Akridge, in a press release on the project.
Waterline
Location: Austin, Texas
Developer: Lincoln Property Co. and Kairoi Residential
Cost: Withheld
Groundbreaking: September 2022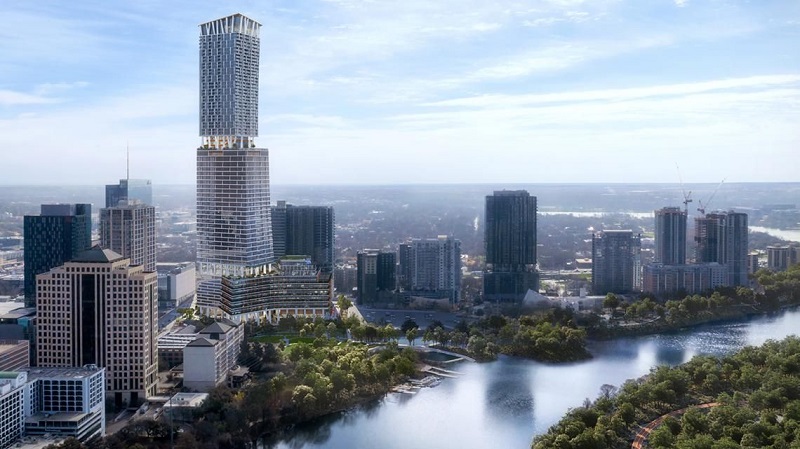 At 74 stories and 1,022 feet tall, the upcoming Waterline tower in downtown Austin, Texas, is set to become the state's tallest tower once complete in late 2026, according to development partners Lincoln Property Company and Kairoi Residential.
The building, designed by Kohn Pedersen Fox, incorporates floor-to-ceiling windows, warm textures and native stone surfaces. In addition to 352 apartment homes, the tower will also include 700,000 square feet of office space, a 251-room hotel and 24,000 square feet of restaurant and retail space on the ground floor.
The apartment portion will make up the building's top 33 stories, with access to two pools on the 41st floor, along with a lounge, bar, kitchen and co-working space. A fitness studio, steam room and barbecue area are located on the next floor above.
The development includes two new pedestrian bridges over nearby Waller Creek, as well as a $1 million contribution to the Waterloo Greenway Project to help preserve the 1.5-mile urban trail and green space that runs past the project.
Riverwalk San Diego
Location: San Diego
Developer: Hines
Cost: $4 billion*
Groundbreaking: September 2022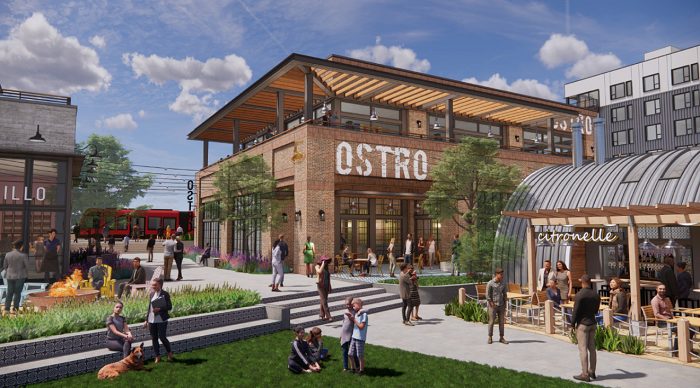 Construction is underway at The Riverwalk San Diego project, a co-development with Houston-based Hines and Bethesda, Maryland-based USAA Real Estate in San Diego's Mission Valley neighborhood. The first phase, set to deliver in 2025, will cover 930 rental units across five buildings at Friars Road, along with 75,000 square feet of retail and a central green space.
The residential buildings will offer a variety of unit sizes, ranging from studio apartments to townhomes, while the retail component will have a grocery store as an anchor alongside restaurants, bars and fitness studios.
The development will take the place of the existing Riverwalk Golf Course, which will remain open through the first phase. At full buildout, Riverwalk San Diego will include:
4,300 units for rent, with 10% set aside as income-qualified affordable housing.
152,000 square feet of retail space.
1 million square feet of office space.
Road improvements, including intelligent traffic signals and improved flood capacity.
100 acres of parks and open space, including a 60-acre regional park around the San Diego River.
The site will also soon accommodate a new stop on the San Diego Metropolitan Transit System's Green Line trolley, which will align with the development's town square.
"We brought together development, design, building and environmental experts, as well as local leaders to craft the Riverwalk vision," said Eric Hepfer, managing director at Hines and head of the Riverwalk San Diego development project, in a press release. "Hines is proud to be a part of bringing the community's vision to life in Mission Valley."
Bayfront
Location: Jersey City, New Jersey
Developer: The City of Jersey City, Pennrose, Omni America
Cost: Withheld
Groundbreaking: 2023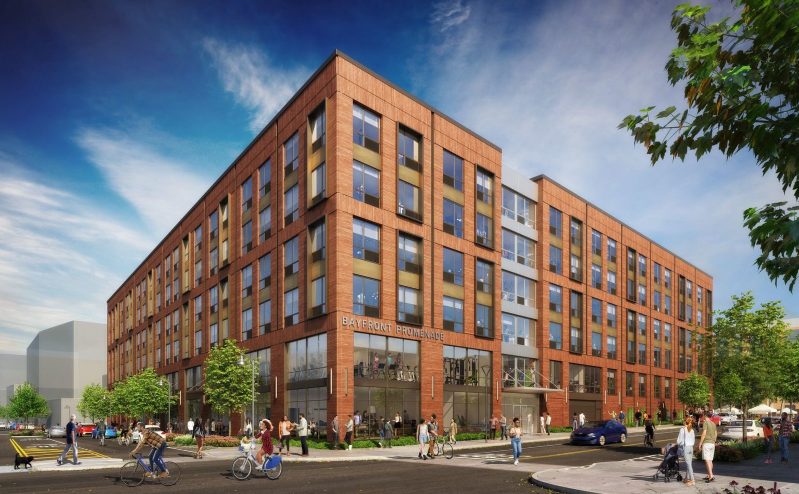 Early this month, the Jersey City Planning Board unanimously approved the start of construction on the Bayfront Promenade, the first building in the 100-acre Bayfront development on the Hackensack River in Jersey City, New Jersey, a property owned and controlled by the city.
The Bayfront Promenade will be developed by Bayfront Development Partners LLC, a joint venture of New York City-based Omni America and Philadelphia-based Pennrose. The building, expected to break ground in 2023, will consist of 210 residential units, 52 parking spaces, 143 bicycle parking spaces and 12,410 square feet of retail space.
Bayfront is set to be the largest mixed-income development in the region, according to Jersey City Mayor Steven M. Fulop. The development site, which the city purchased from Honeywell Corporation in 2018, has been decontaminated from its previous industrial use. The development plan includes connections to transportation options to major employment centers and provisions to improve coastal resilience against coastal storms and rainfall.
Thirty-five percent of the development's units will be set aside as affordable and workforce housing. "We have made incredible progress towards transforming this once contaminated site into a waterfront sanctuary for the public to enjoy while expanding quality affordable housing for our residents today and for decades to come," said Tanya Marione, director of the division of planning for the city of Jersey City, in the press release about the approval of Bayfront Promenade.
The complete first phase will include 1,092 residential units across four parcels, two public parks; a new walkway along the Hackensack River and an extension of the Hudson-Bergen light rail system with a new stop in Bayfront.
The full Bayfront plan includes:
8,000 residential units.
Up to 340,000 square feet of retail space.
An elementary school.
A firehouse.
Three waterfront parks.
Source: www.constructiondive.com