Dodge Data & Analytics released its findings on construction starts from the first half of the year, sharing that the pandemic and resulting recession wreaked havoc on U.S. building markets.
According to Dodge, commercial and multifamily starts were quite healthy in January and February, but stalled as the pandemic hit the nation in March. For the first three months of the year, multifamily and commercial building starts inched up 1 percent from the same period of 2019.
The commercial and multifamily group is comprised of office buildings, stores, hotels, warehouses, commercial garages and multifamily housing, Dodge says. Not included in the ranking are institutional building projects, such as educational facilities, hospitals, convention centers, casinos and transportation terminals, manufacturing buildings, single-family housing, public works and electric utilities/gas plants.
According to Dodge Data, the full force of the pandemic bore down on U.S. construction starts in April as economic activity virtually shut down and local restrictions on construction took effect. Construction resumed in some areas in May, allowing starts to post a mild gain over the month.
Advances continued in June, but the damage to commercial and multifamily construction during the first half of the year was palpable. Starts plunged 22 percent below the first half of the year, with only warehouse construction posting a very small gain. Commercial and multifamily construction starts in the top 20 metropolitan areas posted a similar drop of 22 percent through the first six months of 2020.
"The COVID-19 pandemic and recession have devastated most local construction markets," says Richard Branch, chief economist at Dodge Data & Analytics. "Across the board, building projects have been halted or delayed with virtually no sector immune from damage. Construction starts have begun to increase from their April lows, and there is cautious optimism that as the year progresses construction markets around the country will begin a modest recovery.
"However, the recent acceleration of COVID-19 cases in the South and West, as well as the upcoming expiration of expanded unemployment insurance benefit, puts the recovery at significant risk and could undermine the construction sector's ability to grow," Branch adds.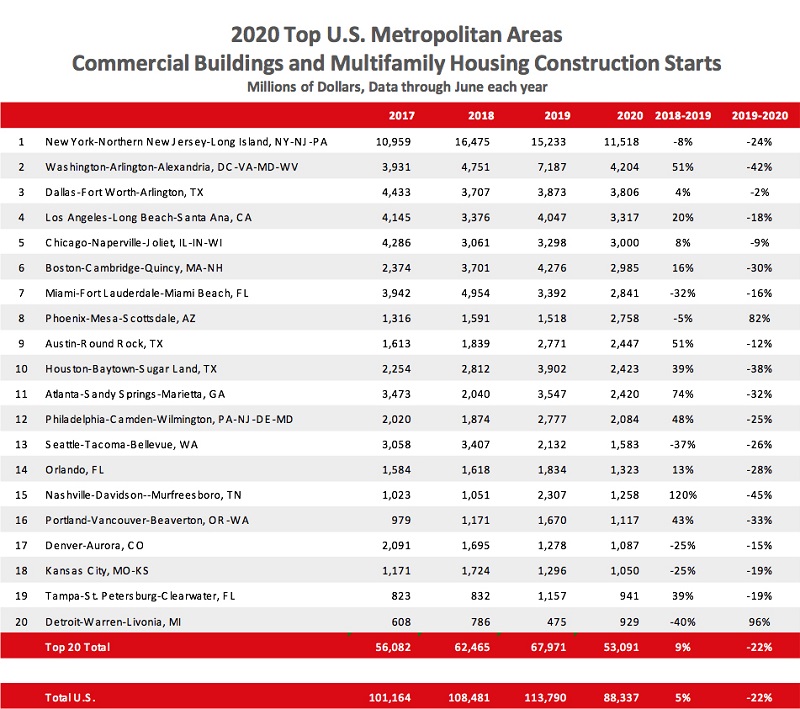 Source: www.pitandquarry.com