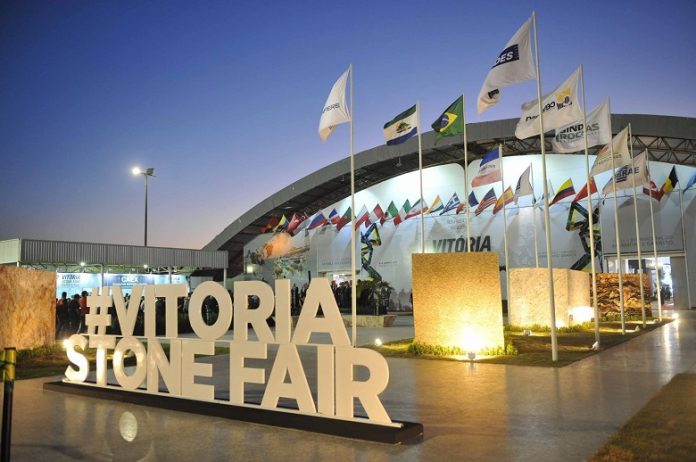 Vitória Stone Fair brings together major extraction and processing companies of natural stones, equipment, machinery, inputs and technologies from all over the world.
The event is an opportunity to conduct face-to-face business, evaluate products and services, work with marketing tools, expand actions and product launches, strengthen partnerships and prospect new markets.
Sector data from Brazil
With the largest diversity of stones in the world in more than 1,500 active quarries, resulting in a production of over 9 million tons in 2018, Brazil has conquered its space on the world stage, with investments made in extraction technology and beneficiation of ornamental stones. There are more than 10,000 companies operating in the sector, of which 400 are internationally active, with modern parks and have an important participation in the Brazilian trade balance.
And when we talk about ornamental stones, Espirito Santo is a national reference; the State that hosts the Vitoria Stone Fair, is the largest exporter of ornamental stones in Brazil. The state accounted for 79,7% of total revenues and 71,5% of total physical volume in Brazilian stone exports in 2018. The main companies that explore, benefit and export more than 1.200 varieties of materials in the country are located in the state.
Vitoria Stone Fair's 2020 edition takes place in a scenario with excellent prospects. Brazilian ornamental stone exports totaled US$ 694.7 million and 1,45 million tons between January – August 2019, with a positive variation of respectively 15% and 12% compared to the same period of 2018. This has not happened since 2013 and it can already be said that 2019 exports will once again surpass the $ 1 billion mark.
Ornamental Stones sector in Brazil in 2018
▪ US$ 992,55 million in revenue and 2,20 million tons exported;
▪ Espírito Santo is the main exporting state (US$ 791,4 million and 1,65 million tons);
▪ Exports to 120 countries on all continents;
▪ 1.200 varieties sold in domestic and foreign markets;
▪ 1.500 active quarries;
▪ 10 thousand companies operating in the production chain;
▪ 120 thousand direct jobs in the sector;
▪ At least 400 companies exporting;
▪ Major supplier to the US Market (US$ 594,4 million exported).
Vitoria Stone Fair | Marmomac Latin America
Visitors: 18.000
Countries: 51
Exhibiting Companies: 240.000
Stones on display: +1.000