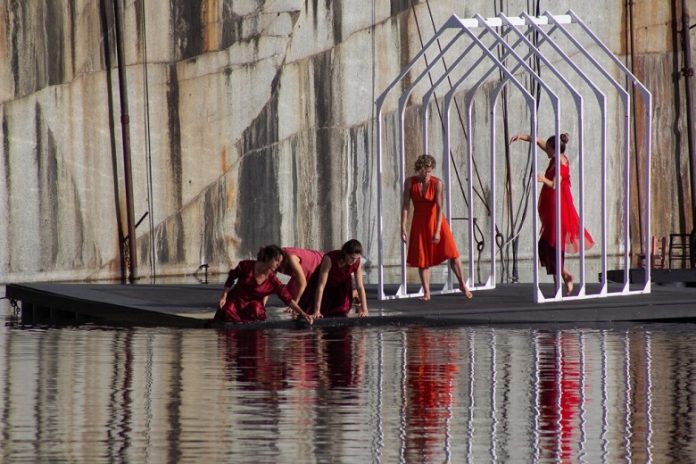 One of America's oldest, deepest granite quarries is set to become the stage of a floating theatrical display.
The abandoned Wells Lamson Quarry, among the most famous sites within the granite-rich state of Vermont, will be used as the backdrop for a site-specific dance/theatre piece called 'The Quarry Project'.
The project's leader, Hannah Dennison, chose the landscape for the performance for its sheer cliff faces, and reservoir. She plans to float pontoons on the water which will act as a series of stages, as well as the audience's viewing platform.
"My interest lies in creating dance in various sites that are not traditional places where one would see performance," she told Times Argus.
"They're post-industrial history. They are no longer what they were originally, so they are either in transition or they're on their way to becoming something different."
Wells Lamson Quarry, in the small village of Websterville, is about 215m long, 120m wide and nearly 150m deep, making it one of the oldest, deepest quarries in the United States. It was previously owned by the renowned company Rock of Ages, but is now under the ownership of Polycor, a Quebec corporation.
It was reportedly central to the Vermont granite industry until 1986 when it ceased operations. After the pumps were switched off, it filled with millions of litres of water to create the reservoir that is there today.
Dennison said numerous residents had relatives who worked on the quarry, with many still working in the nearby active quarry.
The Quarry Project is raising funds for the performance, which is currently at the rehearsal stage and slated to launch in August 2020.
The project requires $114,000 to pay for 27 ensemble members for 88 hours of rehearsal and performance, 10 crew members and eight collaborating artists. An additional $60,000 is required for infrastructure and safety support.
Source: www.quarrymagazine.com