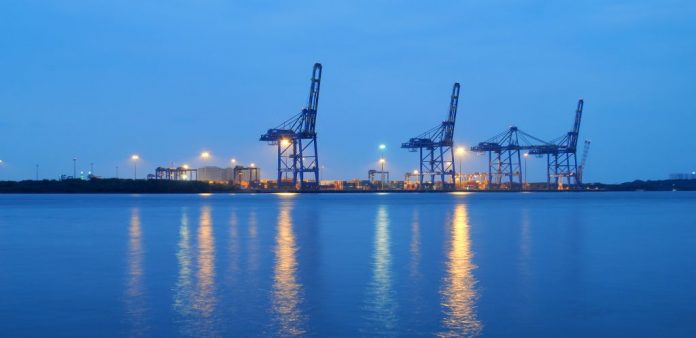 The modernisation of Indian ports and liberalisation of regulations could threaten the container transhipment business of Sri Lanka's Colombo port, according to speakers at maritime industry forums this week.
"India used to depend on Sri Lanka for their transhipment cargo but gradual improvements to their port infrastructure have resulted in some shipping lines diverting their ships to Indian ports," said Tung-Lai Margue, Head of Delegation of the European Union for Sri Lanka.
"Sri Lanka has also higher shipping costs in comparison to regional hubs such as Malaysia and Thailand," he told a said at the Public-Private Dialogue key public and private sector stakeholders in the shipping industry hosted by the International Trade Centre (ITC).
Proximity to emerging markets given Sri Lanka's geographic position is a huge comparative advantage as it is only 3.5 hours away from 1 billion consumer.
But transforming Sri Lanka into a leading maritime, logistics and distribution hub in the Indian Ocean will require the creation of a conducive business environment and improved infrastructure and services to compete with the likes of Dubai to the west and Singapore to the east, Margue said.
Compared with regional peers Sri Lanka has a lower ranking in the World Bank's Logistic Performance Index (LPI) and is in the 94th position of 160 countries in 2018 . Other hubs like Singapore and Dubai have high and consistent LPI rankings.
At present, 35 percent of Colombo port's transhipment volumes are from India.
Already, Indian container transhipment in Colombo port is stagnant at 1.2 million 20-foot equivalent container units, said Eric Miller, Senior Advisor and Sri Lanka Project Manager of the Global Alliance for Trade Facilitation (GATF).
This is despite India's total transhipment increasing by 14 percent in recent years he told the launch of the GATF's project to position Sri Lanka as a hub for multi-country consolidation services held by the Centre for International Private Enterprise, Women in Logistics and Transport, Sri Lanka and Veritè Research.
Miller said India is doing several reforms to make its ports competitive such as the removal in May 2018 of cabotage laws that prevent foreign-flag carriers from transporting cargo between domestic Indian gateway ports.
India is also developing deep-water ports capable of handling new generation mega ships on its south coast.
Source: www.hellenicshippingnews.com