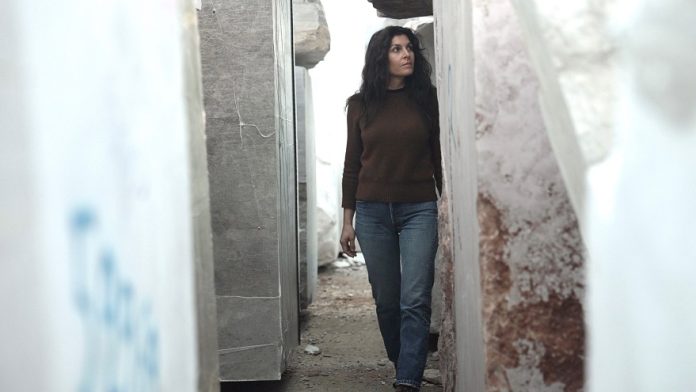 By Despina Dailiani
Eva Papadopoulou brings together in her person all those elements of an artist who is not complacent and seeks out outlets in the art she represents. 
She was raised in an artistic family environment. Having traced a long path of artistic 'concerns' and quests, she ended up – by accident, as she admits – working and sculpting the material that gives her absolute freedom of expression – marble.
Eva Papadopoulou is the first artist who introduced, in the creation of works of art, marble fragments. But before she came to this point, jewellery making were prominent in her 'quiver'.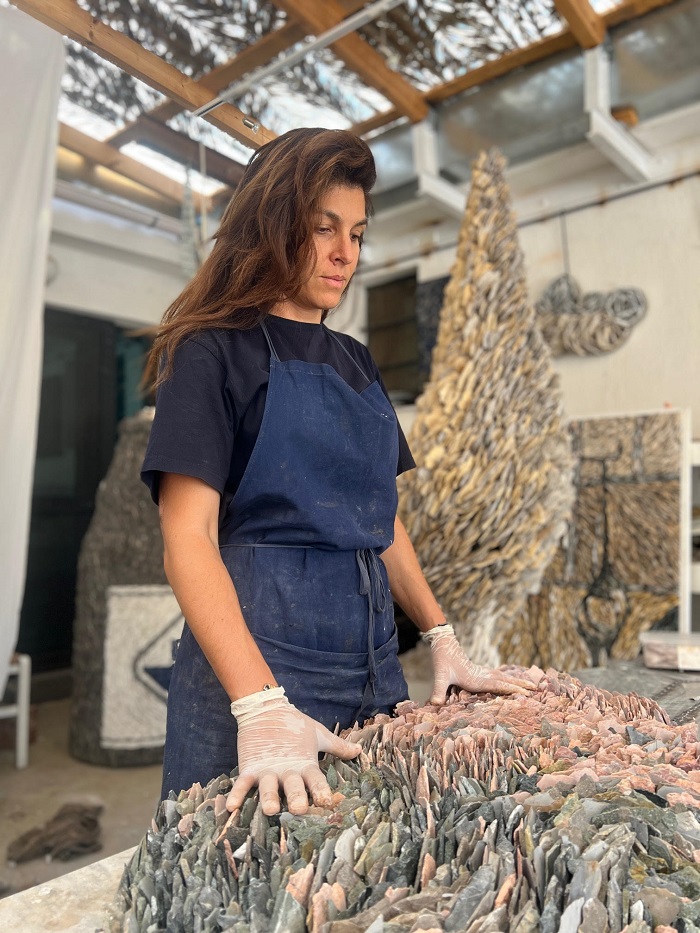 "I have something to say, to leave a small mark on our modern history."
Marble is the material that has helped me express myself the way I want to. I encounter no difficulty working with it, adapting it to what I want. That's why it is, for me, an easy material. 
I'm excited by the fact that I use, let's say, Pentelic marble, which has a history. I feel like I'm reusing it in modern times, too. I have something to say too, to leave a small mark on our modern history.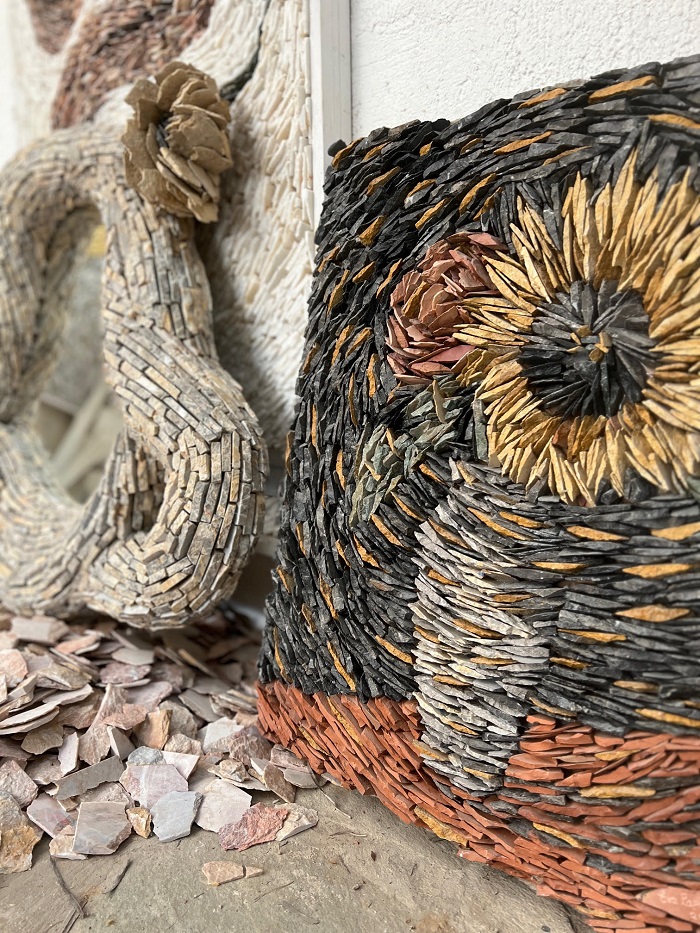 "When it's something so real that you get it out of your system, I don't believe it can't work."
I grew up in an artistic family. My father has a foundry in Athens, in Vrilissia, where my studio is now. He works with all the Greeks and artists from France and Holland. I have experienced the artists and their work up close. I have gone into their studios and worked with them.
You grow up in an artistic family, and they say it is inevitable to be involved in that. I've been searching my whole life to find what expresses me, and I feel lucky. Some people never find it.
From what I've come to understand in my life, the way I've carved it out, it's about taking risks. I wasn't sure this would work either. But when it's something so real that you get it out of your system, I don't think it can't work.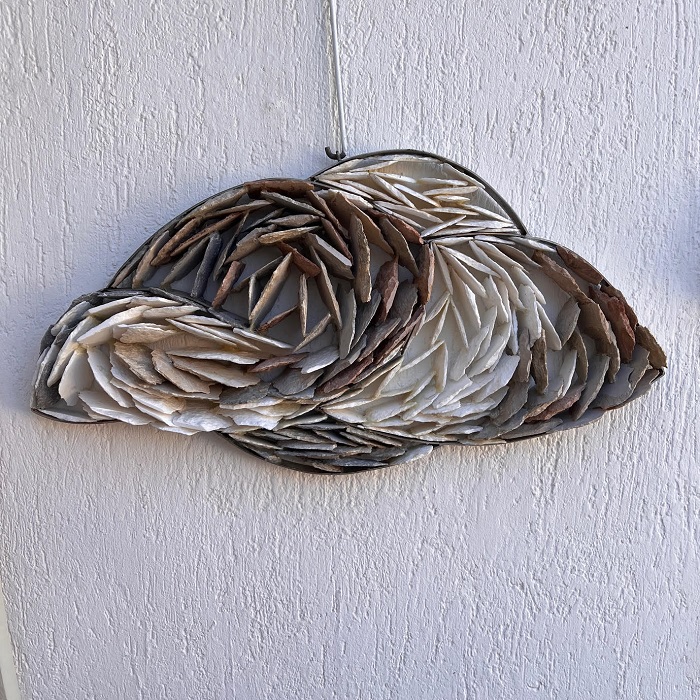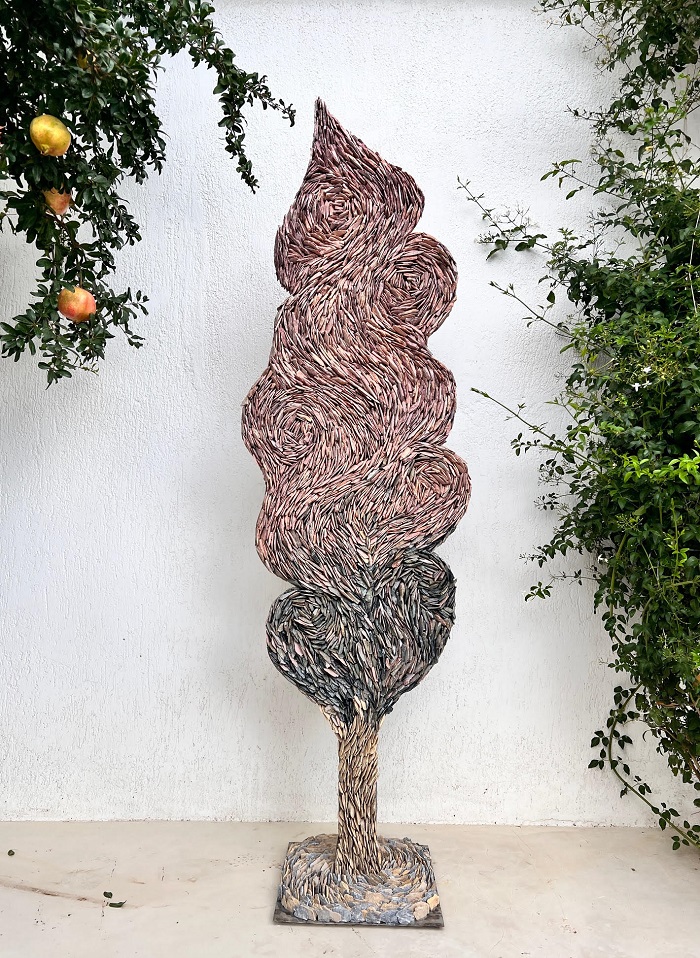 "The first series I did was inspired by nature."
Inspiration is a very personal thing for every artist. My mother was born in Skyros. And there is a strong element of tradition on this island. So, there are, subconsciously, elements of tradition in what I do. I'm inspired by it; I'm energised by the thoughts and what I experience in this place.
I see my work adapting to the architecture. I don't make small sculptures or small works of art. Everything I think or imagine is on a large scale. 
I am inspired by nature. Its forms. I observe it, it can give me an idea. That's why the first series I did, which I'm completing, is inspired by nature. It includes trees, landscapes, wall landscapes, and furniture. I've done a series of utilitarian objects, which are also inspired by it. All are made of marble.
I grew up in the foundry where our material was copper, metal. But I never imagined that I could realise my idea with another material.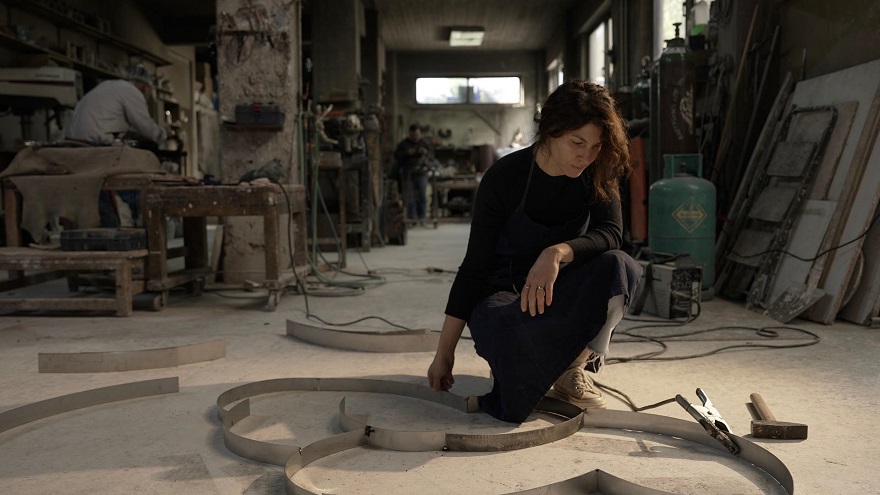 "Eva Papadopoulou has found an unexpected way to juxtapose the weight of history with the lightness of visual practices that break down and reconstruct at the turn of a new millennium of art and knowledge of the works of man and the reality of the natural world."
("The fragments of history and the fragments of the materiality of the world, in the works of Eva Papadopoulou", Denis Zacharopoulos)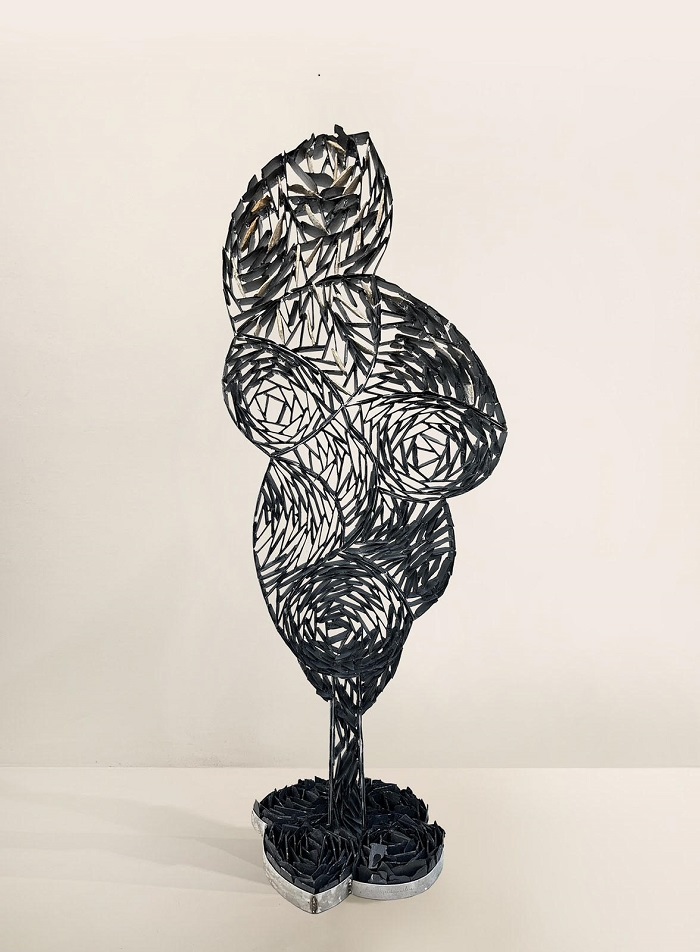 "With the mosaic, which is very sharp and thin, you can render movement in the work."
In sculpture, I would classify myself. I also like volume; I look for it. The technique that I have established is something that has started with me. I have "discovered" it through work. 
The mica I use is a material discarded when working with marble. It has no use. I discovered it totally by accident, in the marble shops near my neighbourhood. 
It is an object processed by marble factories and craftsmen to produce a particular pattern, and then this mica is thrown away. With the chips, which are very sharp and thin, you can impart movement to the work.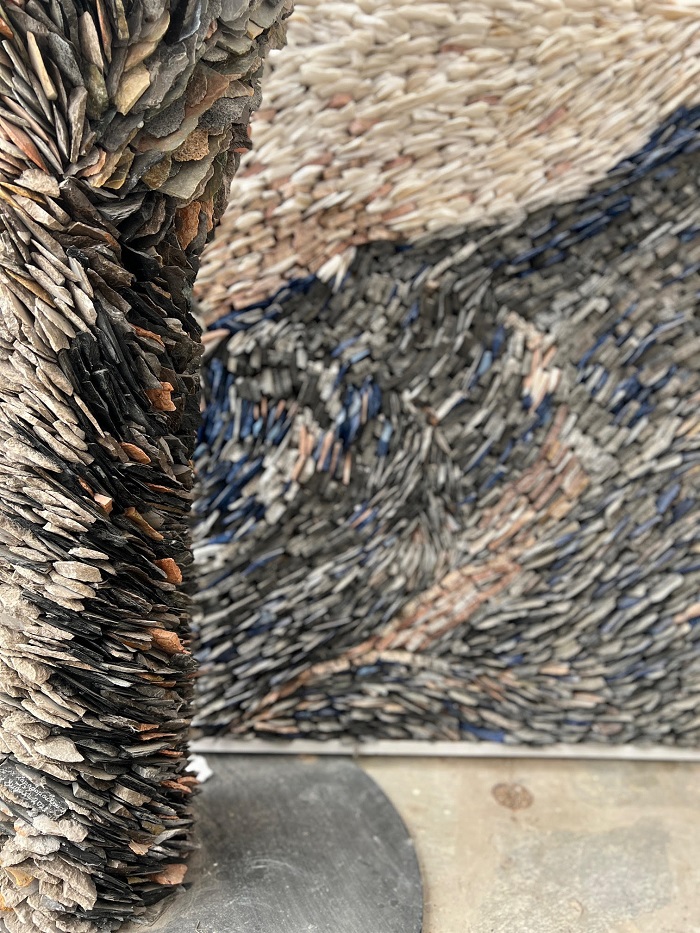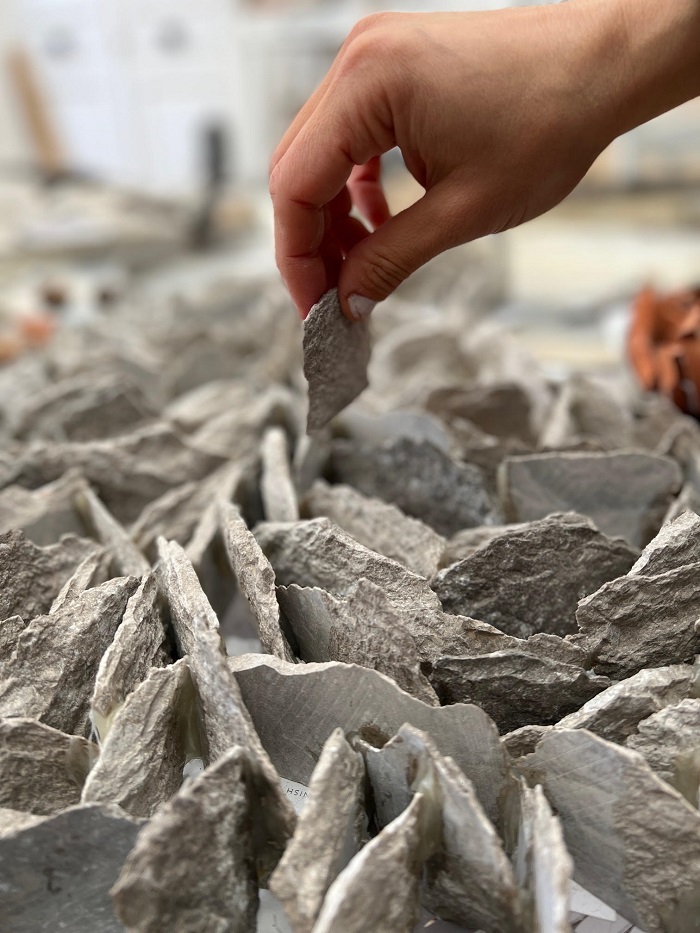 There was a postmodern movement in Italy in the 1960s called 'Arte Povera' ('Poor Art'). These people were making art of the time with all the 'useless' materials. Within that philosophy is this. So I found this material that made me create something that I noticed, and I found that it has a more personal identity. And so, I established it.
And for people who are into art, it's something new. So, they look at it, are curious about it and are interested in it.
"I believe that, depending on the phases of your life, there is an artist that expresses you."
When I was younger, I might like an artist who did very modern sculptures or completely abstract sculptures. Now I appreciate an artist who is an academic and can do a completely realistic portrait. 
I think that, depending on the phases of your life, there is an artist who expresses you.
In this phase I'm in, working with marble, I watch some people, and they inspire me in a way. Georgia O'Keefe, for example, was an American painter who did flowers and landscapes all her life. The way she presented them is very close to the way I capture something myself.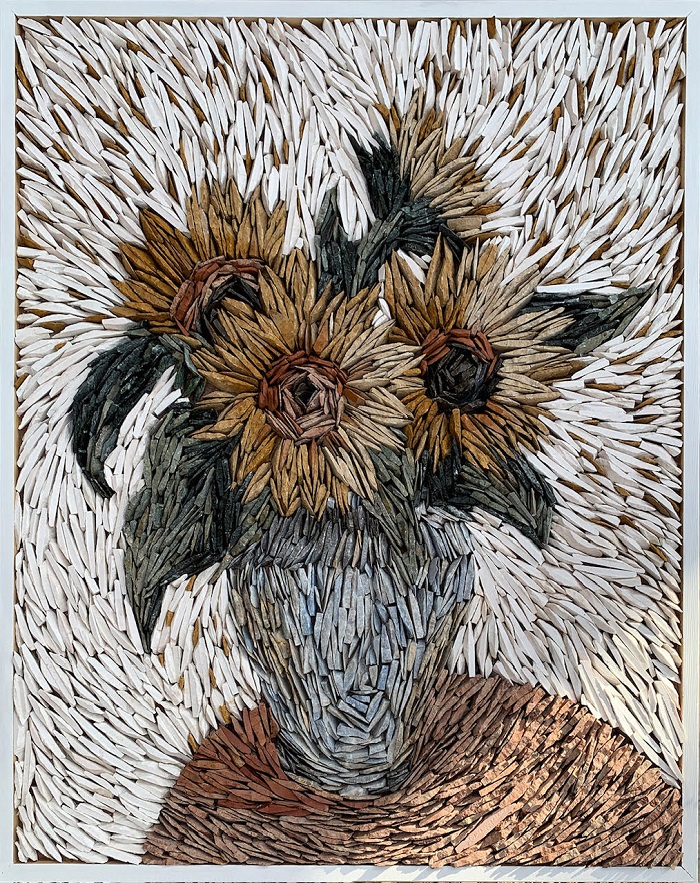 "A person shaped by art ends up being a beautiful person."
Art is a way of life. That's how I grew up, it's not that I tried to enter such a space. My childhood perceptions shaped me. And I feel very lucky. 
A person shaped by art ends up being a beautiful person. You encounter beautiful images, and it shapes you and creates an aesthetic.  
If you're not real, the audience notices. They see it. And you won't stand out, and you'll never stand out, you'll end up doing something that someone else is doing. When you're authentic, you have a way of writing. Someone can't write the way you write. Your DNA is unique. You have your personal, your own fingerprint.
The artist is the only person who shows the audience who he is. No other person in any profession is exposed in that way. It's about what you're concerned about, what you want to show that you love. It's about what affects you and what defines you.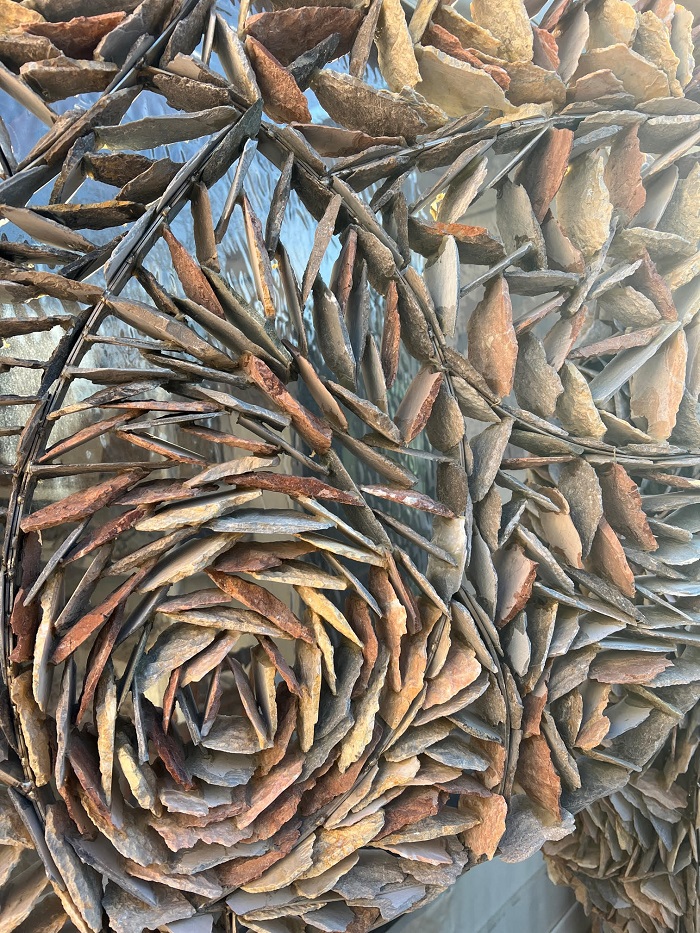 INFO
Until the end of August, Eva Papadopoulou participates in a group exhibition of works from her P gallery sculpture collection in Skyros.
She will also participate in P gallery sculpture on 19-22 October in the salon of the internationally renowned Moderne Art Fair in Paris.
See also: https://www.homofaber.com/en/discover/discover-eva-papadopoulou.